Bak baseball faces early season challenges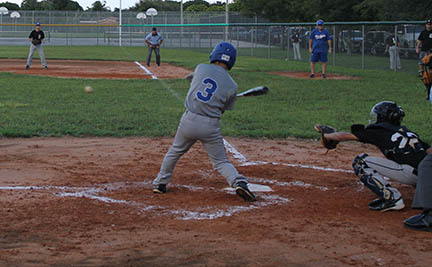 After beginning their season 0-2 against Duncan and Jupiter, the Bak Stars won their first game against Howell Watkins at home.
"The game against Watkins was our best. Not only because we won, but because we prevented them from scoring and applied what we learned in practice, to games," Daniel Park, seventh grade pitcher said.
Although starting winless, some players expected it to be a rough start to the season.
"Seeing the schedule and that we play some of the best teams, at the beginning, I knew that we were not going to have that strong of a start to the season," Connor Worontsoff, eighth grade third baseman and pitcher said.
The team has been getting better from the start, and Park credits the coaching staff, led by science teacher Gary Williams for their improvement.
"We still have many things to work on individually and as a team, but the season has been great with Coach Williams' help," Park said.
Another factor that has been affecting the Stars has been weather. Practices and games have been cancelled, including the season opener against Duncan on Sept. 11, 2014.
The Stars also have a less experienced team this season, with 11 sixth graders and only four eighth graders.
"We have a young team," Williams said, "The first two teams we played, Duncan and Independence, one school had four sixth graders, the other had one. They seemed to be a little bit more seasoned."
Something Williams noticed from the beginning of the season was that the team has come together more and more.
"It was great to see my team gel together. I can't give an MVP because so many players have stepped it up this year," Williams said.
The Stars have been improving since the first game, and Worontsoff feels they improved just from game one to two.
"I believe that we played a little bit better against Independence," Worontsoff said ahead of their game versus Watkins, "We definitely hit better. We fielded a little bit better. Our pitching was really good. It  was a better game."
The pitching has not been an issue for the Stars this season.
"We have a lot of good pitchers. They throw strikes and that's all we need them to do in order to win," Worontsoff said.
The rest of the Stars' schedule featured home games against Independence, JFK, and Jupiter and away games against Jupiter, Duncan, and Howell Watkins.
The Stars have made some miscues this season but they have six more games to improve on their 1-2 record as of Sept. 26, 2014.
Park said, "The team keeps learning more and more from the coaches. Even though we make mistakes, we know that mistakes are what's going to make us better baseball players."