When The Game Stands Tall one of the best football movies ever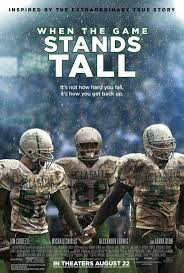 "When The Game Stands Tall" is a movie by Sony Pictures Entertainment and is based on the true story of the aftermath of De La Salle High School's 151 game win streak coming to an end. It grossed $8.4 million on opening weekend.
The movie's main characters were Coach Bob Ladouceur (Jim Caviezel), his wife Bev Ladouceur (Laura Dern), and running back Chris Ryan (Alexander Ludwig).
The storyline of the movie was fantastic, but that was a given since it was based on a true story. The story had a great backbone, and many other side stories to give the movie more depth, like the Chris Ryan side story involving his dad pressuring him to break the state touchdown record.
The acting of the movie was just average. Jim Caviezel's acting didn't blow me out of the water, but it was just enough to not detract from the movie. Laura Dern's character was a very important part of the movie, but she had a very limited number of lines. Her acting, same as Caviezel, was just average.
The plot was exceptionally developed. As is the case with most movies based on a true story, there were some factual errors. For example, the storyline of running back Chris Ryan fictional. The character was based on star NFL running back Maurice Jones-Drew. Most of the important aspects of the real story were kept. For that, I have to give director Thomas Carter a lot of credit for not adjusting important elements to make the movie more profitable.
The movie had a great, character oriented message. I would rate it four out of five stars because the acting was average, but the storyline was one of the best I've ever seen in a football movie.