SWAT team fights against tobacco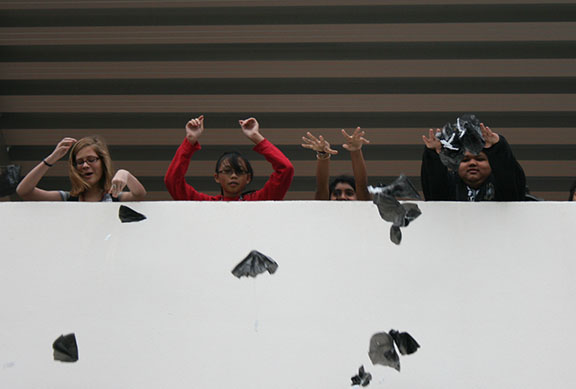 In an effort to prevent tobacco use in teenagers, Bak has assembled the Students Working Against Tobacco,   or SWAT team, to help with the fight against smoking cigarettes.
"Smoking can cause lung cancer and other diseases so we are trying to prevent students from smoking so they don't get diseases like that," Armin Khoshbin, SWAT team member said.
Joseph Balsamo, seventh grade language arts teacher, became SWAT co-advisor and president two years ago. The club has five main members, each with their own unique position on the team.
"[I am] the SWAT co-adviser. What I do is I brainstorm ideas, and I help with organizing the whole staff," David Khan, SWAT member said.
But Balsamo and his five members were not the only ones behind this club.
"My job as SWAT president is to organize the meetings and suggest events. Everything else is up to all of the team members," Balsamo said.
SWAT was not just a school-only organization, exclusive to the five main members. They also hosted events for the school and outside of school to inform the public of the battle against tobacco.
Khan said, "We actually went to Sunfest last year. We had a whole tent, we handed out flyers and we were getting back to the community."
The SWAT team hoped to do more events in 2015, and giving back to the community.
"We will be branching out more in 2015 to take a stand against other drugs and alcohol abuse. In addition, we will be participating in several different events to help the community," Balsamo said.
The SWAT team meets every other Thursday from 3:30 to 5:15 in room 4-215.