Starbucks delivery service, convenience for customers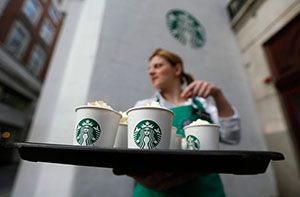 Thanks to Starbucks' new delivery service, coffee lovers could get coffee delivered to their homes or offices in the second half of 2015.
"Imagine the ability to create a standing order of Starbucks delivered hot or iced to your desk daily," Howard Schultz, Starbucks CEO said in a conference call with analysts. "That's our version of e-commerce on steroids."
The Starbucks loyalty program will qualify for the delivery service as part of the pay app and mobile order that launched in Portland in late 2014, according to NBC news.
A benefit of this distribution service is convenience. Regular customers can skip waiting in line behind indecisive customers, and as a result, save time in their busy day.
Another advantage of the service is that consumers can place a big order of coffee to share with their friends and family. Normally, ordering a large amount of coffee at a Starbucks store would make carrying all of the coffee back to the office or home difficult, but a delivery service gets rid of that problem.
Despite the service benefits, there are some disadvantages too. According to CNN news, the delivery costs extra money, so even though it is helpful to regular customers, it may end up making Starbucks lose money.
Many of Starbucks' drinks are temperature-sensitive. By the time the drink is delivered to customers, an iced drink could have all the ice cubes melted and a hot one could be lukewarm.
The idea came from Starbucks' recent focus on consumers shopping online more, and in stores less.
Matt Ryan, Starbucks Global Chief Strategy Officer said that the service is still in its "early days," meaning most of the details have not been worked out yet. The service is "moving full speed ahead."