Print photo case prints photos on the go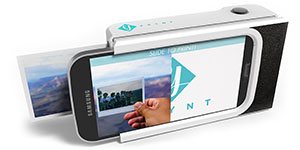 Prynt Cases, a San Francisco based technology company has come up with a smartphone case, capable of printing out photos from smartphones with just the push of a button.
It is called the Prynt, and with the click of a button, all memories shared on a smartphone could be printed on a sheet of paper.
To print, the customer simply plugs a smartphone into the case, snaps a photo or chooses from their photo library, and it will print a photo instantly. No Wi-Fi is necessary.
But here was the caveat. These cases only come compatible for the iPhone 6, 5s, 5c, 5, and Samsung Galaxy S5 and S4.
The Prynt has not yet been sold on the market, but as of Feb. 12, 2015, there have been over 5,000 preorders on the company's Kickstarter for one. The first delivery ships in August of 2015.
For now, the Prynt photo case costs $99 for a case in pink, white, or sky blue. However, that comes with 10 sheets of paper. But it is going to be an additional charge for more sheets of paper. It costs $5 for every 10 additional sheets. Those can be ordered on the Prynt website, or on their mobile app.
One neat feature that could help the Prynt case gain attention is a feature built into the company's camera app. When the customer takes a photo with Prynt's app, it actually records a video of the moments around when the customer clicked the button. When the customer holds up the physical photo to their phone's camera with the app open, it is overlaid with a play button that shows that video in place of the picture itself.
Prynt CEO Clement Perrot in an interview with TechCrunch said, "This is argumentatively the best invention of mankind, bringing photos to the 21st century."