Video announcements provide information, news for whole school.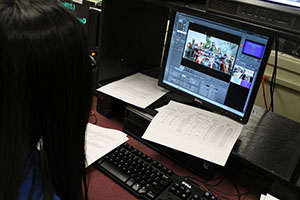 Advertisement
"Five…four…three…" the countdown to going live began. Students scrambled around the studio as the anchors practiced their lines. "2…1…We are live!" As the live show began, the school watched the daily newscast.
"[Bak MSOA Today] is a fun and exciting privilege for me. Being able to represent all the talented students and events going on in school is really busy but fun," Shannon Owens, video announcements advisor said.
Bak MSOA Today aired daily for all of the school, providing news, feature reports, and sport reports to students and staff.
"It is a really great experience; we all get to produce a live show that pays off in the end," Lindsey Spruce, anchor for Bak MSOA Today said.
As one can imagine, producing a daily news show while teaching young students about the roles they a take on may be a challenge. On top of having to produce a live show every morning, students needed to be trained and taught about such roles. Not only do the students to one job, they continuously rotate.
"It's important to me that students rotate about four to five times per year. The hard part about that goal is the training that goes into it. But I like for them to experience all the roles they would like to be in," Owens said.
Some roles that students could be include: tricaster, which was the person who controlled what was seen on screen. The anchors were the two people who delivered the news. There was also the role of graphics who designed the digital art shown on screen. Another important role was teleprompter, who made sure the anchors did not need to memorize the whole show. The teleprompter rolled the script across a screen; the anchors looked at and recited the words on the script. The show did become stressful at times.
"The stress depends on the day. When we have multiple features it gets especially hectic, but we keep our cool and try to get everything done before the run through," Spruce said.
Video announcements not only delivered news but it also created lasting memories for the kids and the advisor.
Owens said, "When the kids see their show go live and I can see the confidence growing in them, those are my favorite memories."