Dance majors get the chance to 'dance like nobody is watching' in their annual showcase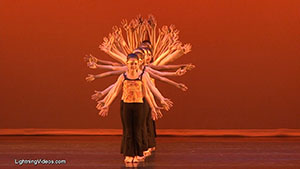 Advertisement
The annual dance showcase provided dance majors of all grades with the opportunity to display their talent.
"The experience was thrilling because it was our first show at Bak and some peoples first time getting to use a professional stage," Ekko Greenbaum, sixth grade dance major said.
Dance classes had been preparing for months in advance of the show. This would have made them more comfortable when they got on stage.
Greenbaum said, "We prepared for about two months. It was a very long two months full of hard work and dedication, but it paid off in the end because we had a very good show."
Although they prepared for a couple of months, some thought preparation came with experience whenever they were dancing.
"In reality, since you've started dance, you have been preparing your technique to a level you can perform with," Faith Hunt, seventh grade dance major said.
After the show, performers knew exactly what they wanted to improve on and what they had done well for future shows.
Riley Visker, eighth grade dance major said, "For future shows I will try to be more relaxed and enjoy the experience and also get to watch."
"What I could work on is focusing more on the steps than on my facial expressions," Greenbaum said.
Although the performers worked hard, they gave a lot of credit to their teachers for the success of the show.
Hunt said, "Since we have now been with the teachers for two years we have all grown special bonds and they want the best for us.
They gave teachers the praise for their level of self-confidence.
"They buildup our self-esteem and train us to be the best we can be," Hunt said. "I think the teachers help us through this process and we wouldn't be able to do it without them."
Performers saw the show as a success and they enjoyed the experience performing.
"Getting to perform is my favorite part of dance," Hunt said.
They also thought the show was a success and they felt accomplished and proud of their work.
"It's like all of your work had paid off and you can show it to an audience and take them on a journey," Hunt said.
But most of all performers said that the show was a great experience.
Hunt said, "You can finally show everyone what you can do. Bak performances let you have a fun time with your friends and I always feel the joy of being on stage."