Sushi- the best throughout Palm Beach County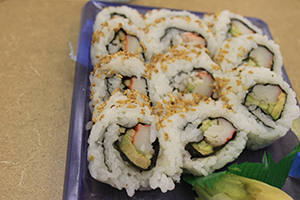 Sushi, a part of human life since the ancient Japanese times. A piece of raw fish layered upon sticky rice, served with wasabi and ginger. Nowadays, Americans have made a more modern sushi roll. Different varieties of raw fish, such as salmon or tuna, are rolled with seaweed and sticky rice with a variety of different vegetables.
I went to three different sushi restaurants, all claiming they had the best sushi in Palm Beach County. At all three restaurants, I judged the sushi on taste, appearance, atmosphere of the restaurant, and price.
Publix
Yes, Publix is not a sushi restaurant, but they have the acclaimed popularity of most sushi restaurants. Their quick, fast, fresh sushi is convenient for many people who do not want to sit at a normal sushi restaurant. Their seafood section has actual sushi chefs, asking me what I wanted, and making it for me. The price for two rolls was only $4.99 per roll. The California roll tasted sort of bland. It did not shine with quality. The spicy tuna roll could have been much spicier. The color was a light pink, rather than a dark pink at all of the other sushi restaurants. The taste of the tuna roll was suitable to the cost. I give Publix three stars.
Ichiban
With locations all throughout the state of Florida, I was excited to try this renowned restaurant. One thing I liked about Ichiban was that it was a buffet. There was all-you-can-eat sushi everywhere. The California roll tasted great, and was delicious after every bite. The tuna roll was absolutely amazing, and tasted fresh. The one problem I have with Ichiban is their price for the sushi buffet. After 4:30 p.m., the buffet is $14.99 for an adult. Overall, I give Ichiban four and a half stars.
Sushi Moto
Sushi Moto is a small, cozy restaurant in Wellington. My waitress was really friendly, and brought the food pretty quickly. For $10, it was a lot of food. The texture of the rice on the California roll was hard, like it was made the day before. The taste was not very good. The tuna roll was not fresh. One inconvenience about Sushi Moto was that there were no utensils other than chopsticks at the table. You have to request a fork. I give Sushi Moto one and a half stars.