Academic geared high schools provide accelerated college opportunites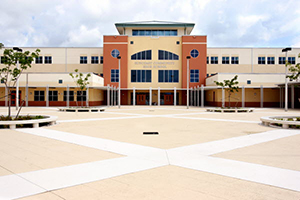 Students rush home, trying to finish homework on time before they have to study for an Advanced Placement (AP) exam in Physics. Although the life may seem stressful, students chose the life of a person on the academic path through grade school.
Suncoast Community High School is one of several schools in Palm Beach County that allows students to excel academically by offering AP classes, highly advanced math classes, and Choice Programs in Computer Science (CS), Innovative Information Technology (IIT), International Baccalaureate (IB), and Math, Science and Engineering (MSE). Other schools in the county that offer IB programs are Forest Hill High School, Pahokee High School, and Dwyer High School.
"I chose Suncoast because I wanted a school that could help me excel in academics and I feel Suncoast did that best of any school I looked at," James Seton, eighth grade vocal major and future Suncoast student said.
Because the academic geared schools provide college level classes and programs, the school prepare students for college and beyond. According to U.S. News, Suncoast is ranked seventy-second in the nation and eighth in the state.
"Suncoast provides plenty of college opportunities by offering AP classes and programs that can get you through [undergraduate college programs] in two or three years," Jack Stone, current Suncoast student and Bak Class of 2014 member said.
One drawback of the programs was the extra workload it required to succeed. H­­­owever, Stone said that if you can handle the pressure, Suncoast is worth it.
Stone said, "If you can handle the extra work and pressure, Suncoast is definitely worth it because it gives you opportunities to do great things in life if you take advantage of them."