Boys' volleyball team goes 4-1 in 5 games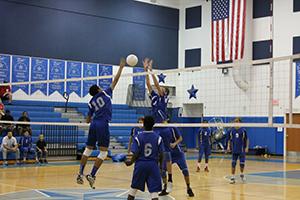 The Bak boys' volleyball team started the 2015 season strong, and as of May 13, are 6-1.
"I think we have an amazing team this year with an amazing coach," Garrison Banks, middle hitter said.
This year, the boys' volleyball team got a fresh new roster, as the team only had two returning players from last year.
"We only have two returning players this year. So, I think a brand new team could benefit us, and hopefully we will be successful," Matt Sallas, head coach said.
The team practiced their strategies one by one. First, they started to work on defense.
"Now our defense is one of the best in the county," Sallas said.
Then, they started to work on their offense.
"Our defense has been perfected, and now all we have to work on is offense, and then we will have a pretty good team," Zachary Welz, high hitter said.
The team got a head start in the North division, winning their first four games of the season. But after a devastating loss to Independence Middle on May 1, the team regained themselves for success.
"We lost our first game to Independence, and we were all devastated. I think if we work on our offense and get back together, we can really be good," Connor Worontsoff, middle hitter said.
If the team ever feels any pressure before a game, they know how to get back in the game.
"With the pressure, we just zone everything out, and just play the game the way it is. We do not play the opponent's game, they play ours," Worontsoff said.
The boys' volleyball team feels prepared for the rest of the season.
Banks said, "I think we will finish very strong this year and hopefully make the playoff."
The boys' volleyball team defeated Howell Watkins in an exciting three game match on May 11 to improve to 6-1. They traveled to Independence on May 12 in a battle for first place in the North division, where they became 7-1.