School district officials address first week of school transportation issues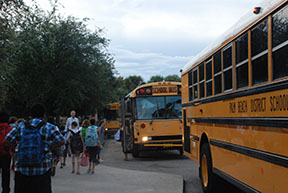 Starting on August 17, the first day of school for Palm Beach County students, issues involving school bus routes and late buses occurred district-wide. This incident lasted for the entire first month and a half of school.
"It is not uncommon to have some complications at the beginning of the school year, but the level of problems we have had with transportation is unacceptable," Robert Avossa, new superintendent of the Palm Beach County School District, said in an interview with School Bus Fleet.
The school district implemented a new routing system before the 2015-16 school year, which left little time for bus drivers to practice their routes.
"I will not tolerate this type of rollout in any way, shape or form," Avossa said in an interview with Sun Sentinel. "We oversimplified, we over-promised, and we under-delivered."
According to the Office of Communications, buses delivered 60 percent of students on time on the first day of school. By Sept. 18, the number rose to 87 percent of students delivered on time.
"It's a typical thing for the first week or two," Cynthia Chiapetta, principal of Eagles Landing Middle School, said in an interview with Sun Sentinel.
On the first day of school, some buses arrived at Bak so late that zero hour was extended to let students on the late buses receive their schedules.
"I called [my parents] at 8:40 one time and said, 'I'm at school,' and they said, 'Really? This late?'" Jean Luis Montesinos, seventh grade visual major said.
The school district invested $50 thousand when they hired a third-party attorney, Eugene Pettis, former President of the Florida Bar, to investigate the transportation problems.
Avossa authorized hiring Pettis "to come in and investigate how this happened, who is responsible, and what we need to do to ensure that we are not dealing with these issues in the future."
Rosealee Rolle, mother of first-grade student at Sunset Palms Elementary School, said in an interview with Sun Sentinel, "I called the school district and they were not answering the phone. They had months to figure this out."
Along with the late buses, students and parents criticized the transportation department for crowded buses.
"We [the School District of Palm Beach County] take very seriously any matters of student security and safety, especially on our school buses," Kathy Burstein, school district spokeswoman, said in an interview with Sun Sentinel. "Concerns regarding overcrowded buses will be addressed on a case-by-case basis."
Avossa called the transportation issues a "perfect storm" of errors with lack of bus drivers and computer glitches happening at the same time. The district had been hiring 10 new bus drivers each week to compensate for their errors.
"Our drivers have stepped up," Avossa said in an interview with School Bus Fleet. "They have delivered the kids to the best of their ability. Now it is time for the district to step up and do what's right for them."