'Janitors' Author Tyler Whitesides visits Bak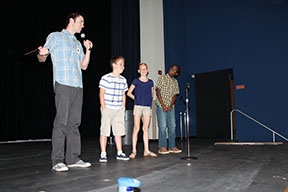 With all the students cheering like a celebrity had just walked in the theater, bestselling series Janitor's author Tyler Whitesides started off the 2015/2016 school year with a performance for all the sixth graders.
"It was quite interesting," Angela Philstein, sixth grade dance major said, "I love how he incorporated [his band] Jammin' Janitors with his presentation"
A janitor himself, Whitesides graduated from Utah State University with a degree in music, but started writing the Janitors series using a little of both experience and creativity.
"I started writing about five years ago, and whenever I see you guys [students] really excited, it motivates me to write even more," Whitesides said.
Starting off the show with a pop quiz, Whitesides surprised a few students with information like his love for onions.  He also did a poetry interpretation of Shel Silversteins Sarah Cynthia Sylvia Stout Would Not Take the Garbage Out. Using some of TV's favorite voices, like Yoda, Darth Vader, Jack Sparrow, Gollum, and of course, Kermit, Whitesides aimed to please both students and teachers.
"I really liked the trash can drums. It was really cool. The kids really enjoyed it, and I liked how he incorporated music, as we are a school of the arts," Lourdes Alonso, sixth grade language arts teacher said. "I also love Shel Silverstein's poetry, and my second favorite part of the visit was his poetry interpretation."
Whitesides paired his novel Janitors with a special performance of some of his musical work. He was part of a band known as the Jammin Janitors, who used ordinary things like trash cans, into drums and empty cans into cymbals.
Some students had already seen this show before at schools or at events hosted by Shadow Mountain, the publisher.
"I also got to meet Mr. Whitesides during April is for Authors' last year at my old school, H. L. Johnson," Philstein said.
Along with all of these, Whitesides released more information on his new series.The Janitors series has been concluded with "Heroes of the Dustbin", making it a five book series.
"My next book is coming out in March. It's called The Wishmakers Quest Book 1, The Genie in my Peanut Butter Jar," Whitesides said, "I'm excited about it, and it's really funny and crazy humorous."
At the end of the show, Whitesides had a few words of wisdom to all the parting students.
"Remember," Whitesides said, "ordinary can be extraordinary."