Hurricane Katrina; Life after the disaster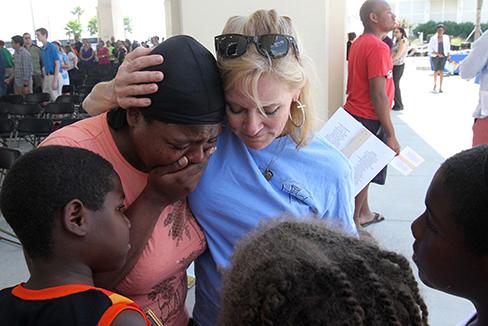 Ten years ago, rain relentlessly pummeled rooftops in Louisiana in the worst storm of the 21st century, Hurricane Katrina.
Aug. 29 marked the anniversary of Hurricane Katrina.
"I don't think it was all that bad here in Florida because it did curve up into the Gulf," Lisa Hanser, seventh grade civics teacher, said. "We were all lucky [in Florida] but it was truly horrible watching the effect it had on other states."
At its peak velocity hurricane Katrina reached wind speeds of almost 175 mph as a category five storm. It had a span of over 400 miles across and while the actual hurricane itself did not cause the most devastation, its aftermath did.
During this time, thousands of people around the gulf coast of the United States, mainly in Mississippi, Alabama, and Louisiana, were displaced from their homes. Levees overflowed due to the heavy rains causing massive flooding in these areas. Experts estimated the damages surpassing $100 billion, making hurricane Katrina the costliest natural disaster in U.S. history.
One of the areas most affected were New Orleans, La. Although New Orleans was hit by several hurricanes in the past, 49 of them since 1851. Katrina had the greatest impact. The $14.5 billion levee system protecting the city was breached causing 80 percent of the city to become submerged under water.
The total death toll of the major hurricane was approximately 1,833 casualties. While the storm brought loss and grief, from New Orleans to Mobile, Alabama, there were somber ceremonies marking the day 10 years ago when Hurricane Katrina slammed into the Gulf Coast.
"We had a million structures that were damaged, 250,000 homes were destroyed [and] 1,800 people were taken away from us," Mayor of New Orleans, Mitch Landrieu said in an interview with ABC news.  "It was a big, big, massive deal that spanned the entire city.  Everybody lost everything."