Baseball season kicks off with high hopes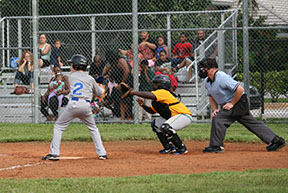 With the grass freshly cut, the baselines repainted, and the clay freshly laid, the boys were anxious to get the season started.
"Everybody has their own skill, we're all talented in a different area, one person might be more talented in another area so we have a mix," Daniel Park eighth grade pitcher said.
The boys' first game resulted in a blowout with a score of 11-2 over JFK, but then fell short against Duncan, losing 0-2, and then losing 2-8 against Jupiter.
"We always got next game is what I tell them," Gary Williams, coach of the baseball team said.
Despite the loss, Williams felt the team was ready for the season ahead, and was confident they would achieve success.
"We are on par for more success than last year," Williams said.
The boys were shaking off the loss and were well-prepared for next game.
"It's a hard sport. There's a lot of failure in the game. In order to be good at this sport, you have to accept failure," Park said.
The team, however, felt there was more to the sport then just winning.
"It's outside the world of academics. Kids are coming because they like the sport, and you get to experience that with them," Williams said.
The baseball team had their work cut out for them and knew what they needed to polish up.
"I feel we have good hitters and outfielders, but we should work on pitching, in order to get the inning over faster," Nolan Anschuetz, seventh second baseman major said.
Although some of the players had superstitions, such as Anschuetz, who would not touch the baseline in order to not mess it up, Williams did not believe in luck.
"As a science teacher, I don't buy into luck," Williams said.
One of the things the team had going for them was their chemistry.
"We're all really good friends and we all help each other out," Nicolas Buitrago, seventh grade first baseman said.
The team will play a minimum of 10 games in the regular season, half of those being played at Bak. The five opponents the team faces this season are JFK, Duncan, Howell Watkins, and Independence.
The team has built around the idea that communication is key and they need to talk to each other during games to keep each other up to speed.
"A team can't function without communication, especially in baseball. Working together, that's the key to baseball," Park said.
As the last blade of grass was cut, last inch of baseline painted, and last ounce of clay laid, the team was ready for the challenges ahead.