BAk students prepare for All-State auditions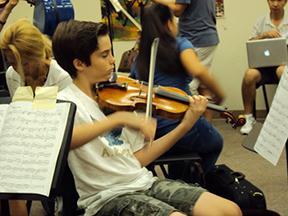 Throughout the summer months, while many kids were playing sports or hanging out with friends, the majority of band or strings majors were preparing for their All-State auditions, which would test their musical and sight reading abilities.
"[The best part is] being able to play with so many people that have the same interest as you. The experience of auditioning and getting out there is great," Katelyn Ansay, seventh grade strings major said.
While many students take pride in getting into All-State, many hours of preparation were required to meet that goal when they auditioned in late September.
"Every day, I spend 30 to 40 minutes running through my piece with a metronome. I make sure to go very slowly so that I can catch the mood of the music," Abigail McNutt, eighth grade strings major said.
Students can get accepted into All-State for a variety of instruments, including the piccolo, tuba, and flute, according to flmusiced.org.
"For violin, only about 150 people get in. So of course, there is going to be some pressure," McNutt said.
There are many benefits that can be achieved by qualifying for All-State.
"Getting into All-State gives you a better chance of getting into Dreyfoos and it is just a great achievement to have," Lucas Haury-Parra, eighth grade band major said.
"I want to please Ms. Beebe and I think that it is a really great experience to play with people from all over the state," Ansay said.
Preparing for such an important audition may cause students to worry. But most just think about the great things that will happen if they get accepted.
Ansay said, "I'm a little bit nervous, but I think I've prepared myself enough with the music, so I'm just going to go in there,   try my best and hopefully that's enough."
Students anticipated the day when they would find out if their summer work was enough to make it into All-State.
Haury-Parra said, "I feel like I've prepared myself the best that I can, but even if I don't make it in this year, it's no big deal. It's helped my skills and will make it easier for any audition I might have in the future."