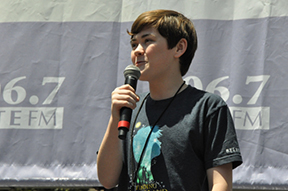 Seventh grade theater major, Casey Butler, auditioned for the role of George Llewelyn Davies in the Broadway show "Finding Neverland," a musical that follows the story of J.M. Barrie and his inspiration to write "Peter Pan."
"I was at the airport getting Auntie Anne's cinnamon sugar pretzel nuggets when I got the call. When I heard I got it, I got so excited that I started freaking out at the airport gate," Butler said.
With his busy schedule, Butler had to plan ahead to get his schoolwork done as well. He enrolled in the Professional Children's School.
"It has changed my life because I now have rehearsals some days and shows every day. I also have to do all of that with school, vocal, and dance training," Butler said.
Butler is expected to stay in New York City until the school year is over. He gets to perform with stars like Mathew Morrison who starred in "Footloose" and "Hairspray."
Butler said, "Everyone on the cast is very supportive and are all the nicest bunch of people ever. I feel honored to be with them. New York City is a different place than Florida, but I feel like I fit in well here."