Where has our privacy gone? The controversy behind student body cameras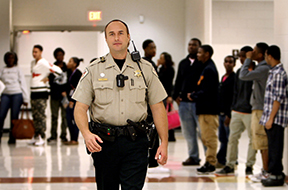 As she fixes her hair in the bathroom, she adjusts her camera and flicks the switch from on to off. But is this future really necessary? Does the student body need to be monitored at all times?
According to Florida State Statue 90.507, "A person has a privilege against the disclosure of a confidential matter or communication." Therefore, when a student hasn't done anything wrong, then Florida Law says that they have a right to privacy. It is also unethical, to treat a student like a cop. Seventh grader Salma Kiuhan said, "I think that with all the violence in the media, it's necessary to have body cameras on police so we know the truth on how they are treating people." Any staff/admin can ask or take measures to prevent things like bullying that aren't as harsh, like the bully box.
Also, the logic behind the idea is flawed. At just Bak this year, there are around 1350 students overall. To put something like this in action, it would have to be put in affect all through Palm Beach County, which is the thirteenth-largest public school district in the United States, and the fifth-largest school district in Florida. The price for a police camera along with all the maintenance supplies is about $100. If this were to go in effect at Bak, it would cost roughly $135,000, and to get that kind of money,parents would have to pay, and some of the students don't have that much financial support. Another way to get a district grant, which should be given to schools that need it for something important that affects students' learning. And the last way would be to raise taxes, but you would have to raise them by a significant amount, as we would have to put it into effect district-wide.
With the use of student body cameras, students, taxpayers, staff, and the district overall will be affected negatively.
If it is truly necessary, then a student could have to wear one as a punishment, or if a crime were to    happen on campus, they could be placed around the school, which leaves less tape to pull, and less cameras, which is a more efficient alternative.