TrumpMania 2016: Donald Trump, Dr. Ben Carson dominate early Republican polls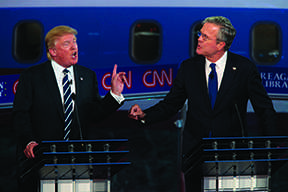 With still over one year until the 2016 presidential election, business mogul Donald Trump and neurosurgeon Dr. Ben Carson were in the lead of the Republican presidential primary.
"I would not say I am impressed with Trump's numbers as much as I am surprised by the fact that his numbers have stayed this high for this long," Douglas Battle, eighth grade social studies teacher said.
Back in June 2015, before Donald Trump launched his campaign, former Florida governor John Ellis "Jeb" Bush was leading the polls with 23 percent of the vote, according to NBC News. Now, in their latest poll from Oct. 15, 2015, Bush was polling at eight percent.
"[Based on the resources he has], Jeb Bush should be winning this primary. Before Trump entered, everyone thought he would receive the nomination and now he is struggling," Battle said.
In fact, one candidate ahead of him was his protégé Senator Marco Rubio, Florida's former Speaker of the House of Representatives while Bush was in office as governor. Currently, Rubio is polling at 13 percent, third best among Republican candidates.
"Rubio is going to benefit a lot as the field starts to thin because he is a good, solid Republican candidate. I think his senate voting record is going to hurt him a bit because he has missed key votes, but because he has new, fresh ideas and governmental experience will help him in the polls," Battle said.
So far, Trump and Bush have engaged in several arguments, most of them revolving around Bush's brother, former President George W. Bush. The most recent of Trump's attacks on Bush were about the Sept. 11, 2001 terrorist attacks.
Trump said in an interview with Bloomberg TV, "When you talk about George Bush, I mean, say what you want, the World Trade Center came down during his time."
Bush perceived the quote as a suggestion that his brother was responsible for the attacks.
Jeb Bush took to Twitter to criticize Trump's remarks, saying, "How pathetic of Donald Trump to criticize the president for 9/11. We were attacked and my brother kept us safe."
Battle said that while Trump may be leading in the polls, he may not win enough primaries to secure his party's presidential nomination at their national convention next July.
"The real question is whether or not Trump's polling numbers will translate to votes," Battle said, "It is easy for voters to say they would vote for him over the phone, but it is a lot harder to put his name on the ballot."