Annual Curtain Calls Lights On! lets stars shine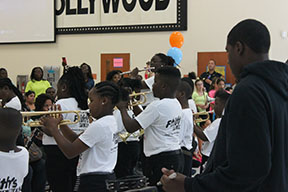 In an evening full of vibrant colors, show stopping performances, and amazing speeches, the Curtain Calls Lights On! was an event to remember.
"The message," Shakendra Moorer, Curtain Calls sponsor, said, "was for parents to see what students do during Curtain Calls."
The show featured many performances, one of them being from the award-winning Bak Star Steppers.
The Lights On! did not just feature Bak students. This year's special performance was a marching band from Faiths Place, a center for arts and music enrichment. Using a range of instruments, they produced a sound like no other, which captivated the audience.
Moorer said, "I think the special performance by the Faith Place marching band was the highlight."
The program was not only intended for students whose parents could not pick them up afterschool, but also to help them achieve excellence in academics and also their arts
"I chose to perform so people could see that I do have talent," Ferran said.
Yet, being able to perform in front of both peers and parents helped them improve their performance both inside and out of school.
Okur said, "My mistakes that I made during the show make me better and they help me try new things that I didn't know I could do."
Overall, the show was called "amazing" and "great" by students and staff alike. It was a "really interesting" show that featured various art areas and students, and allowed students to let loose and enjoy a break from the regular Curtain Calls program.
Ferran said, "You can let your energy out and cheer on people that are performing even if you're not."