Students put knowledge to real world events in Washington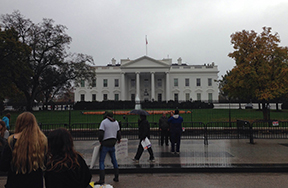 Students in the eighth grade went on a Social studies field trip to Washington DC. from Nov. 7 – 11.
The students went to some of the "hot spots" of DC. According to Brandon Wisnicki, eighth grade communications major said.
"It's one thing to read about DC and the government in a book.  It's completely different seeing it up close," Douglas Battle, eighth grade social studies teacher said. "Seeing the Lincoln Memorial up close, where Dr. Martin Luther King delivered one of the greatest speeches in all of American history, is as moving a sight as I have ever experienced in my life."
According to educase.edu, Active Learning Classrooms (ALCs) had the most positive growth in learning, for example school trips, discussions, and immersions.
"I am most looking forward to visiting Washington to be immersed in the history that I am learning this year," Alex Haddad, eighth grade communication major said.
The trip included visits to George Washington's house, touring the White House, and other activities which provided some students with the answer to the question: Why is history so important?
"If you don't learn from history, you are doomed to repeat it. It is so important to learn the past. It helps provide a roadmap to the future," Battle said.
The students were exposed to different aspects of government and how it runs, but one student found that the trip was more than just reinforcing what was taught.
Wisnicki said, "This trip shows me how the government is not all about the politics, but what the government can do for us and how it can help us."