Separate instruments; one major. Artsgiving shows what music was really about.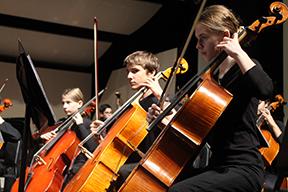 Tuning their instruments, humming to get in tune, reviewing their pieces, music majors were prepared for the chance to represent their department in the schools second annual Artsgiving.
Seventh grade band major, Aidan Taylor, said, "Performing gives me a sense of excitement playing music which I love."
The music department performed series of concerts, featuring vocal, band, strings, and piano.
"For Artsgiving, we [band] played two pieces. We worked on one of them around the beginning of the year, and already performed it in an earlier performance. The other we played for the first time for an audience. It was really good practice for us," Janice Hu, seventh grade band major said.
Most students thought being able to perform in front of their peers was beneficial.
"When we perform, you are under more pressure so you get to see what actual mistakes there are. I want to see how I play under pressure and what I need to improve on," Jason Ibalerrosa, seventh grade piano major, said.
As the concert finished, the performers took their bow, walking off the stage with the audience clapping.