Artsgiving showcases dance skills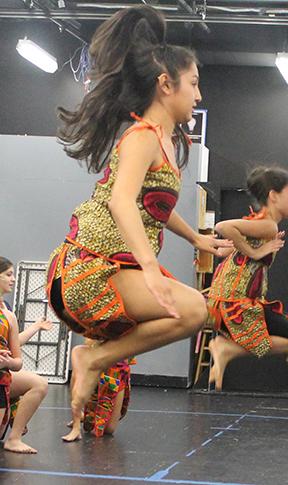 Bak's second annual Artsgiving showcased the arts with various performances. The dancers had a number of showcases, from African dance to classic and modern pieces.
"One jazz piece and two modern pieces were performed," Holland Schiller, dance teacher said.
The performances were shown in the dance studios. One of the classes was Repertory class.
"Basically the Repertory class presented choreographic etudes that were learned from guest choreographers," Schiller said.
Another part of the performances included an African Dance piece which included live drummers who "originated from Guinea," Jessica Widder, eighth grade communications major said.
"Your movements correspond with drums. The drums tell you what movement to perform," Widder said.
Dance majors were not the only ones who performed, as non-majors who chose to take dance class performed as well. Some found it a challenge to focus with a crowd of fellow students, while others found it enjoyable.
Ashley Tabachnick, seventh grade dance major said, "I enjoyed performing in Artsgiving because it was fun to perform in front of my friends."