Speech and TV demonstrations show communications skill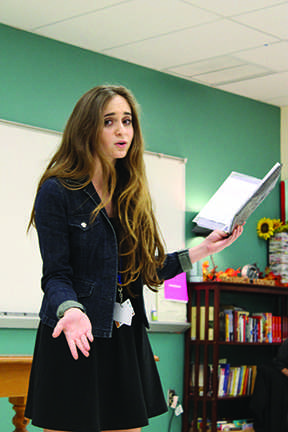 Giving is defined as "to communicate or impart a message onto someone."
During the day of Artsgiving students had the opportunity to experience a small glimpse into the work that happens in other majors, one of which being Communications.
"There were two things going on," Alyssa Vaknin, speech and debate teacher said. "There was a live TV studio portion where students shadowed the crew and speech performances."
The events that were featured during the presentations include, dramatic, duo, humorous, and original interpretation as well as original oratory.
"I really enjoyed the duo performance that was based on a Disney channel movie," Brandon Wisnicki, eighth grade communications major said. "I felt like the students could really connect with it."
Although there were classes scheduled to come in during certain times to watch the demonstrations, a few problems occurred.
"A group would occasionally come in during the middle of a performance and we'd just have to let them in and continue," Vaknin said.
The demonstrations took place during eighth period in the speech and debate room. There were four rotations with two events in each one.
"It's really only just a sample of some of our skills," Wisnicki said. "I think that there is a lot more that wasn't seen."