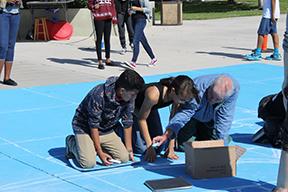 The girl rolled up her sleeves as she bent down on the blue pavement to rub her fingers on the chalk. She stepped back to admire her work, smiling as she gazed down at the image of the Statue of Liberty.
"[The students] got to freely express themselves when they were doing the chalk drawing," Karima Cromer, eighth grade visual major said.
The visual arts Artsgiving performances included the chalk drawing and a darkroom tour.
"The students got to have an inside look on what we do in photography," Cromer said.
Jean Luis Montesinos, seventh grade visual major, thought that students enjoyed working on the chalk drawing.
"I told my friend what [the visual arts department] was doing, and she said, 'Oh, my god! That is so cool!'" Montesinos said.
Many students thought Artsgiving was an effective way to showcase the different arts areas.
Cromer said, "Maybe you cannot make it to any concerts afterschool, but with Artsgiving, you could see all kinds of performances."
As her class started to leave, the girl wiped her chalk stained hands on her jeans and followed her friends back to her classroom.