Stars boys' soccer team strikes out for the season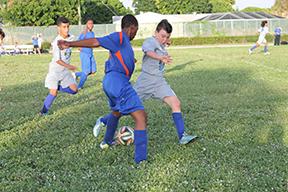 Facing a tough season, the boys' soccer team ended their season with a record of 1-9.
Passing and communicating seemed to be one of the main issues so far in the season, causing the Stars to lose control of the ball.
"The other teams are a lot bigger and faster. They are always intercepting our passes. We also made some bad passes that we couldn't connect," Thomas Ashley, defender, said.
All of the players had different skill levels, and played different positions, which made it harder for all the players to work together.
"The biggest thing I want to change is if we can have the same skill level of kids and the same personalities," Seth Greenberg, goalie, said.
Another big problem was the height of the players, which affected their ability to get the ball when punted or thrown in, allowing other teams to get more opportunities to steal the ball and score.
"If I could make one change," said Greenberg, "I would make all of them tall. Our team cannot get the ball in the air, because no one is tall. It's not a bad thing, it is just that it is disadvantage."
The players were able to represent their school in the Palm Beach County league, but the team did not get into playoff.
"My biggest achievement of this season is that I get to be the last defender, and I get to help my team win games, that I say is the biggest achievement." Greenberg said. "Not that I blocked a good goal, or passed a good ball right to my player. I don't care. I care that I'm helping my team."