New technology powers devices over Wi-Fi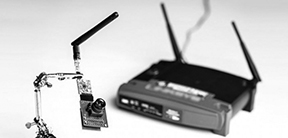 A new device created by the University of Washington (UW) utilizes the power that Wi-Fi routers put out and uses it to charge devices.
"For the first time, we've shown that you can use Wi-Fi devices to power the sensors in cameras and other devices," Vamsi Talla, a UW electrical engineering doctoral student, according to washington.edu said.
The device, dubbed "PoWiFi" standing for "power over Wi-Fi" takes the small amount of power that Wi-Fi routers already put out, and turns it into energy that can power devices.
PoWiFi is still in the testing phases, UW conducted a small trial run, placing the device in six homes. The results showed that users typically did not notice a slower Wi-Fi when using PoWiFi to charge their devices.
"[PoWiFi] doesn't degrade the quality of your Wi-Fi signals while it's powering devices," Talla said on the UW's website.
UW had high hopes for the new device, and thinks it can have a national impact.
Talla said, "Although initial experiments harvested relatively small amounts of power, the UW team believes there is opportunity to make the PoWiFi system more efficient and robust."