Nike proves self-lacing sneakers possible with Nike Mags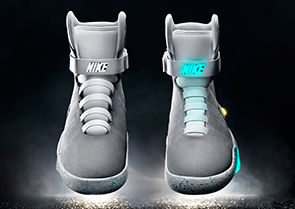 Before 2015, the idea of sneakers that lace automatically would have been only imaginable in movies. However, Nike has made it possible with their limited edition Nike Mags.
"Product that comes alive, with on-demand comfort and support when you need, product that senses you and adapts to you is right around the corner," Mark Parker, Nike CEO, said in an interview with CNN.
When "Back to the Future Part II" was released in 1989, Nike was asked to create technology for the film, such as the power lacing shoe. As the years went on, the company made this dream their reality.
In 2011, 1500 pairs of the sneakers were auctioned on eBay. The proceeds were donated to the Michael J. Fox (who starred in "Back to the Future") Foundation for Parkinson's disease research. However, the pairs were only for show and did not have power lacing features, according to nicekicks.com.
"The enthusiasm this project ignited, and the funds and awareness the shoes generated for Parkinson's research, are both humbling and inspiring," Fox said in an interview with solecollector.com
The Nike Mags had LED lights arranged around their outer sole. A white Nike logo appeared on their strap, according to gizmodo.com. They were close to an exact model of the sneaker that was showed in the movie, with a few minor tweaks.
A fully-functioning model is expected to be released in spring of 2016, and again, they will be sold primarily on eBay.
Parker said, "We started creating something for fiction and we turned it into fact, inventing a new technology that will benefit all athletes."