Charity helps visual majors show talent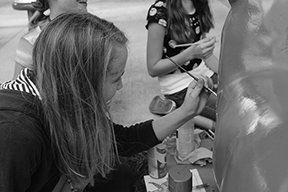 Palm Beach Island Cats lets cats live free. They asked the visual department to paint and decorate a cat sculpture to raise money.
"There is a large number of feral cats that live in the wild. The charity, instead of putting them in shelters, let them live out their life," Glen Barefoot, visual arts teacher said.
Palm Beach Island Cats (PBIC) is the organization that had asked the visual department to participate in this cause.
PBIC prevents future generations of homeless cats by implementing the humane practice of Trap, Neuter and Return. PBIC maintains the current population through daily feeding, watering and providing medical care as needed. PBIC responds to all citizens' concerns in order to achieve peaceful coexistence between the town's cats and residents, according to pbislandcats.org.
The visual arts students like Andrea Turner, eighth grade visual major, spent over 20 hours making the cat sculpture perfect.
"The cat is cast in fiberglass and painted with acrylic," Barefoot said.
"The cat is purple with multicolor rings and flowers," Turner said.
Turner and her sister both worked on the cat at their house.
"Sometimes the work gets very tedious, but it's still fun and relaxing," Turner said.
In addition to being a fundraiser, the cause had benefits.
"It's nice to know that someone is taking their time out for something like this," Barefoot said.
In late January, there will be an auction to sell the cat sculptures.
"I think the cat will sell for a lot of money. I know a lot of people will be impressed because people are always impressed by what this school does," Barefoot said.
Barefoot believed it was beneficial for visual students to use their skills to support the community.
"I think it's a good idea for artists to give back," Barefoot said, "and use their talent for good."