"The Hunger Games: Mockingjay-Part 2" hits theaters, ratings surge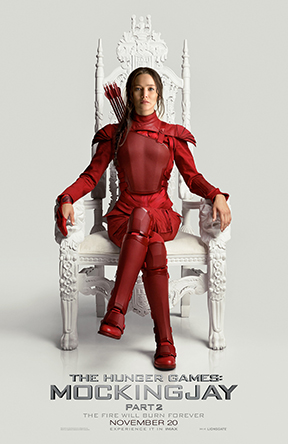 "The Hunger Games: Mockingjay-Part 2," the epic major motion picture finale to Suzanne Collins best-selling trilogy, was released on Nov. 16, 2015. Already, the movie has grossed in about $247 million worldwide.
The movie had a running time of exactly two hours and 17 minutes, and had viewers hooked within the first 30 seconds.
It opens with a close up camera shot of Katniss Everdeen, the main character of the series, played by Jennifer Lawrence. Though it was engaging, it was also extremely abrupt, and gave no background as to where it was picking up from the last film.
"The Hunger Games: Mockingjay-Part 1" was a rather slow moving picture that set the stage for the "revolution" that would supposedly take full force in the follow up film. I found, however, that the action scenes did not necessarily begin right away in the final movie and took a bit too long to finally appear.
With criticism often comes praise, though, and in this film there was an ample amount to criticize and applaud.
One huge part of the film that was a tremendous success was the acting. Stars like Lawrence, Josh Hutcherson (Peeta Mallark), Donald Sutherland (President Snow), and Julianne Moore (President Coyne) all brought the emotion of the book off of the pages and on to the big screen, and definitely did it justice. The dystopian technology and unique camera angles also deserve high praise.
In my opinion, this long awaited end to the Hunger Games series trumped only "The Hunger Games: Mockingjay-Part 1" in overall quality.
After taking every aspect of the end to an amazing franchise in to account, I rate "The Hunger Games, Mockingjay-Part 2" a 4 out of 5 stars.