Eighth grader George Zhou snags rank in top 25 chess players of United States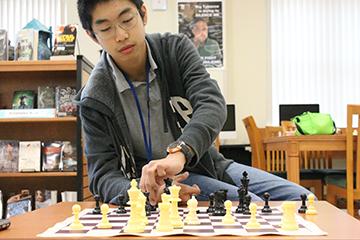 As he carefully studied the chess board in front of him, his mind whirled, creating tons of possible scenarios that could play out based on his next move. Finally, his thoughts came to a halt as he maneuvered his pieces. "Checkmate!" he exclaimed triumphantly.
Eighth grade keyboard major George Zhou is currently ranked in the top 25 sixth through eighth grade chess players in the United States.
"I started playing chess when I was six," Zhou said. "My friend and I played a game and, though I got crushed, I was inspired to start playing because I had a good time."
About a year after he started playing the game, Zhou began participating in competitions.
"I practice chess pretty much every day- online or physically. I also have a tournament once a month," Zhou said.
Although there are 16 different pieces on a chess board, the game only has one, clear objective: to checkmate, or capture an opponent's king.
Zhou said, "I just love everything about chess. It's a mental game, and it helps me to relax, and forget everything else that is happening around me."