The Servant of Two masters brings entertainment to students, experience for cast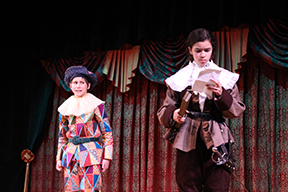 As the crowds of students hustled in and settled in their seats, the talking ceased and the lights dimmed, signifying the start of the play.
"Servant of Two masters was a great performance to be in," Madison Elliott eighth grade theater major said. "I loved our cast and we had so much fun even though we were stressed at times."
Created in 1746 by Italian playwright Carlo Goldoni, The Servant of Two Masters is a comedy written in the Commedia dell'arte genre. This style of theater is characterized by its improvised performances.
"In Commedia you can play with the words a lot," Elliott said. "When it was originally done in the 18th century the actors just had a simple plot line to follow."
The play which was directed by Richard Valentine, took about one and a half hours to perform but "around four and a half months to practice for it including some after school practices," Jakob Littell, eighth grade theater major said.
"He [Mr. Valentine] thought we were strong at improv and so he chose a play that fit this the best." Littell said.
Costume design also played a big role in making the costume for Truffaldino,
played by eighth grade theater major Preston Padgett.
"His costume was made entirely from scratch and took a few months to make, in the end it had a couple hundred triangles in it." Littell said.
The play went on for about two weeks and although greatly rehearsed, the cast found a few minor things which they would have liked to fix.
"If we could improve on one thing it would be memorization, cause in theater it is a bare minimum," Littell said. "If you don't have that then you don't really have anything."
Valentine said, "One of the things I love about theater is that we do our best to try and make shows available to all students. It's kind of like a field trip for everyone without having to leave the school."