Flying high with the science teacher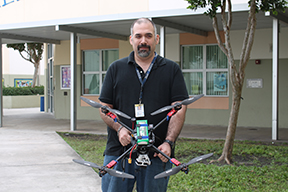 Sixth grade science teacher, David Cantor, has a side hobby of creating drones and selling them in addition to teaching.
"I enjoy building drones because it gives you a cool feeling, but sometimes it's a challenge," Cantor said.
Drones are formally known as unmanned aerial vehicles. They can capture shots that humans cannot get to. They are operated with propellers, a computer, controllers, and goggles. There are many other accessories to put on your drone such as propeller guards, decal sets, and crash packs.
"The propellers keep it level and the computer adjusts it and lets you see what the drone sees," Cantor said.
Cantor has built over 80 drones so far. He uses drones to capture aerial shots. But, he mostly makes drones for people who have ordered them. He customizes them to match the way the owner wants it.
"There are two parts in what I do with drones. The first part is that I build them to what people order and I repair them too. The second part is selling them and also using them for aerial purposes," Cantor said.
Cantor had gotten the idea to start exploring drones from a student who chose the drone for their "Invention Convention" project.
"A few years ago, one student did a science project on drones and it fascinated me that drones could be used for so many purposes. The student's father was fixing roofs when he met with an injury. With drones, the father could fix roofs without even being there," Cantor said.
He had a great amount of expertise although he had only started building drones a couple years ago.
"My expertise in in most aspects of programming and flying drones," Cantor said.
Most small drones cost a little less than the bigger ones and the military drones are more expensive.
"Small drones cost around $50, while the big drones cost thousands of dollars due to the amount of pieces and the motors. Some military drones are millions of dollars," Cantor said.
Cantor loves building drones because it's a 'good escape if you're having a bad day.'
Cantor said, "When you have the goggles on and you're flying the drone, it's amazing because it's in a birds' perspective. It's very peaceful ad relaxing."