Boys basketball team struggles to begin season; 0-2 through two games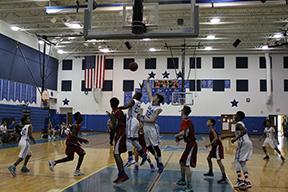 Through their first four games of the season, the boys' basketball team is 0-4, with all four losses by more than 10 points. Although they have struggled early, the team continues to improve.
"I do not think that we have played as well as we can so far, but we are definitely improving," Jordan Juliano, eighth grade shooting guard said. "We played a lot better in our second game than we did in our first game, and we are headed in the right direction."
The team lost their first game of the season on the road against Jupiter 53-25. Then, in their home opener, the Stars trailed 46-23 at the beginning of the fourth quarter and made a late run and trimmed the lead. But, the team fell short again and lost 49-36. In their third game of the season against Duncan, the Stars suffered their worst loss of the season, falling 48-16. In the Stars' fourth game of the season against H.L. Watkins, the Stars also fell 54-20, the Stars scored a season-high 43 points against Jeaga, but still fell 72-43.
"We need to work on our offensive game," Alex Haddad, eighth grade power forward said. "We are not shooting a good percentage and that is partially because we are not getting good looks in the paint."
Although Haddad said that they have difficulty on shooting mid-range jump shots, he did say that they do well when they do get inside.
"I think we play well when we drive to the basket. We have talented point guards on our team who can stretch the defense and get good inside looks," Haddad said.
Head coach Dave Ullom admired his team's work ethic, character, and chemistry.
"This is a good group of guys that work hard and work well together," Ullom said. "They never have any attitude and do a great job."
The Stars next game is at home against Jupiter where the Stars will look for their first win of the season.