Girls' basketball team hopes to repeat last year's season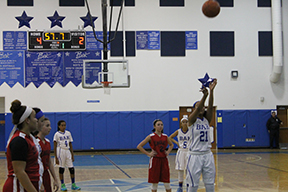 Last year, the girls' basketball team went 9-1 and won the county championship. This year, the plan is no different.
"We are trying to repeat as county champions. We only get better every day. We want to hang another banner," Ericka Haney, coach of the girls basketball team said.
The season began Feb. 10 against when they crushed Jupiter Middle School 33-43. Bak's second game ended in a close one against Independence, losing 30-34 in overtime. The team is hoping to pick up right where they ended last season, with a big target on their back from other hopeful teams as the defending champs.
"We have some tough competition from other teams, we'll have to work hard together and execute the way Coach Haney wants us to," Bella Martinez, eighth grade communications major said.
With most of the team leaving Bak last year as eighth graders, the current eighth graders will take on the role of team leaders and plan on showing the new team members the way, and teaching them the keys to success.  "We have a lot of returning veterans that will be able to help communicate to the rookies," Nashani Gilbert-
Taylor, eighth grade point guard said.
In last year's season, Duncan was arguably Bak's biggest rival, and the last team they had to face before becoming the champs.
"Everybody is a rival, nothing is guaranteed. Normally, Duncan is in our division and usually our toughest competitor," Haney said.
Bak's third game was played against Duncan in which they lost 21-48 despite a solid effort all around. The girls played against HL Watkins where they won, improving their record to 2-2 off of a 17-27 performance. All of Bak's basketball games begin at 4:30 after school. With new faces joining the team, working as a team is a big part of any team's chances of success.
"The team chemistry is good because we have a solid foundation that is coming back from last year's championship team. I think that they are teaching the newer players our philosophy of winning," Haney said.
With the new basketball season underway, the Bak girls' basketball team is working hard on bringing home another banner to hang in the decorated gym.