Girls Soccer team ends season beating undefeated Jupiter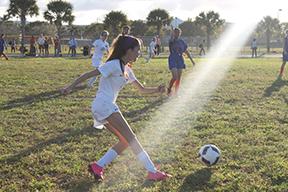 Bak girls' soccer team began their season with a win of 7-0 against Howell Watkins on Feb. 2.
"The first game, against Howell Watkins, was against a team that was undeveloped because the girls on the team were only there for the fun of it not for the competition," Amber Mistry, seventh grade, left back said.
Six players scored goals during the game, while Watkins scored zero as it was an "unexperienced team," Stiengenga said.
"Sylvia Ng scored two goals, Julianna Booth, Nora El-Abbar, Sofie Karbstein, Savannah Lebedecker,     and I all scored one goal each," Lucy Steigenga, seventh grade right forward           said.
The second game of their season was against Independence on Feb. 3 which they lost 2-0.
"The team [Independence] mostly consisted of eighth graders who were fast, quick, and knew how to work the ball around the field," Mistry said.
In prior seasons, Independence and Jupiter middle schools have had a history of being tough opponents.
"The best teams are Independence, Duncan, and Jupiter because their players are developed, they have speed, agility, and skill on the ball," Mistry said.
The first game against Watkins "let the team get a feel for the game and how the team had to play to win," Steigenga said.
"My teammates are like family to me both on and off the field. They are all supportive," El-Abbar said.
At the last game of the season against Jupiter Middle, the girls' beat the undefeated rival 2-1.  Jupiter scored off a direct kick in the first quarter. Anna Jones had five saves, including a major save in the third quarter on a one on one break away.
In the fourth and final quarter, the girls came back with two scores. Sylvia Ng scored on a break from the right side and Chloe Chen scored a header on a cross from Savannah Lebedecker.
El-Abbar said, "I love everything about soccer. The feeling when your team scores a goal or stops a goal is amazing. Every time I step on the field, I feel like I am right where I belong."