Dance majors give back to community through performing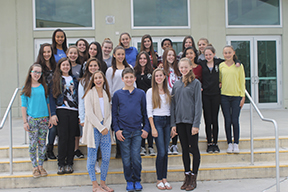 In addition to dedication to all things dance, the Dance Honor Society (DHS) strived to give back to the community in various ways.
The DHS, a school-run organization established in 2007, is made up of dancers who helped community.
"The great thing about it is that I not only get to help the dance community, but I also get to help the actual community as well," Ryan Jaffe, eighth grade dance major and President said.
Being accepted into the organization was no "walk in the park" Hollond Schiller, sponsor for the DHS said.
"When I applied to be a member, I had to fill out a point sheet, which I gained from performing," Jaffe said.
The main focus of the honor society was to "show others that they are not alone" said Alyse Harris, eighth grade dance major and vice-president said.
"We once did a flash mob for the JDFR walk for diabetes," Harris said. "We also held a dance class for kids with autism."
Along with the Dance Honor Society's involvement in the community, they continued their dance education.
"Dancing is an outlet for me, and for many people," Jaffe said. "It can relieve stress, it keeps you healthy, and you can express passion."
Being a part of the DHS not only benefited the community, but also was beneficial to the members.
"We receive scholarships and we have guest speakers that help us be more involved and be a part of thing in the dance community," Jaffe said.
One of the dance honor society's messages was dance was an important part of art, and it "allows students to express themselves," Schiller said.
"We have the power to help others," Schiller said. "Why don't we?"