A play-by-play profile: Tyler Backus, sports reporter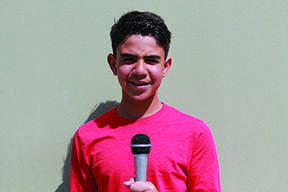 His heart raced, his mind raced-everything was racing. The anticipation consumed him as the cameraman shouted "Live in 5,4,3,2…"
"I went to Plumosa School of the Arts for elementary school and was a part of their communications program," Tyler Backus, sixth grade communications major said. "I started reporting when I was in third grade."
Last year, Backus' communications teachers at Plumosa Elementary School of the Arts encouraged him to enter the Miami Heat Kidcaster contest. The contest is sponsored by FOX Sports Sun and views submission videos from kids around the country, ranging from ages 10-17.
In the video, contestants were supposed to explain why they should be a part of a broadcast as the next FOX Sports Sun Miami Heat Kidcaster, as well as include clips of themselves doing a play-by-play and leading an interview. In 2015, Backus was selected from hundreds of entries as the face of the contest.
"I got to sit on the sidelines behind the press box- basically in front row seats at a Heat game," Backus said while speaking of his experience winning the contest.  "I interviewed Erik Spoelstra, the coach of the Heat, and also had a walk-off interview with Dwayne Wade. It was so much fun and just an awesome experience."
This year, Backus entered the contest again after having such a positive encounter as a fifth grader. Communications teacher Shannon Owens helped him put together an entry video showcasing his talent as a sports broadcaster, which he "hopes he can have a career in someday." For now, Backus aspires to be a part of the morning announcements in eighth grade.
"I love when you're sitting there waiting to start reporting and that feeling of anticipation is so strong," Backus said. "Then you start, and you are the person that everyone sees, and all your nervousness goes away."