Science-filled screams: eighth grade students attend annual Busch Gardens field trip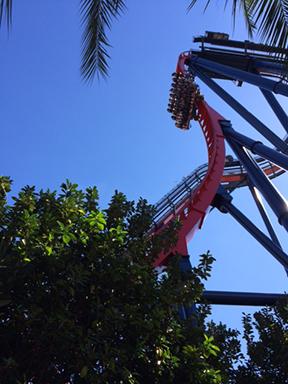 Eighth grade science students rose bright and early and headed to Bak before usual school hours began on Friday, Feb. 12. After a four hour bus ride, they arrived at Busch Gardens- where learning was a thrill.
"Busch Gardens was so much fun," Kora Wilson, eighth grade theater major said. "It gave students a chance to learn in a fun atmosphere instead of sitting in a classroom, bored all day."
While at the theme park, students spent the day not only riding rides, but also watching the various science terms they had discussed in class, such as types of energy, centripetal force, and gravity, come to life.
"At Busch Gardens we got the chance to experience what we are learning this year in a hands-on type of way," Skylar Margolin, eighth grade band major said.
Originally only attended by science students of Tracy Smith, the Busch Gardens field trip began in 1999.
"I chose Busch Gardens because it has great rides and animal exhibits, and most students have not been there. It's new and exciting," Smith said. "In 2004, the other eighth grade science teachers wanted to join the fun and we have been taking students as part of our science curriculum ever since."
Students were not the only ones who found combining science with an amusement park experience enjoyable.
"Watching students show their 'science nerdiness' in the park and being able to interact with them outside the normal school day makes this trip so fun for me," Smith said.
Students were able to walk around the theme park with a newfound connection between the terms "fun" and "learning."
Eighth grade communications major Brandon Lee said, "Busch Gardens taught me that science is happening around me everywhere, every second and it never stops."