Famous comic artist returns to Bak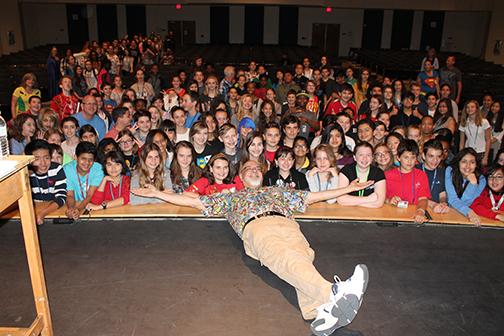 Famous comic book writer and illustrator, George Perez, returned to Bak on Feb. 23. His visit was organized by the MSOA Foundation.
"[Perez] is able to teach storytelling, character analysis, and creative writing, which are skills that will transfer into just many careers the world has to offer," Susy Diaz, executive director of the Foundation, said.
Perez and his wife, Phoenicia Flynn, both interacted with many students.
"I taught a masterclass in the morning to visual and communications students, and my wife taught three dance classes this time. It was great," Perez said.
He has worked on countless comics, including "The Avengers," "The New Teen Titans," "Crisis on Infinite Earths," and "Wonder Woman."
"I don't have a favorite character and I always hope that my favorite one is my next one," Perez said.
Perez has inspired many people and shaped their views on comics.
"I'm fascinated to see how quickly he brings a character to life and I have found myself paying more attention to artists' names, in order to identify their work from their artistic style," Diaz said.
During the masterclass, Perez shared his process for creating characters and telling stories.
"First he was just drawing quick sketches of characters that he made up, but then he started showing us how we can make a whole story from just a few ideas you can bounce off each other," Manasi Patel, seventh grade communications major said.
When people meet Perez, Diaz said, it "quickly turned into an adventure."
"He is incredibly kind, multi-talented and a storyteller in every sense of the word. It's hard not to get drawn in by his charisma," Diaz said.
People think of art in different ways, but this artist has his own twist.
Perez said, "I like to think that being able to pursue a passion keeps the art alive for the next generation."