2016 Presidential Election: Most important of our time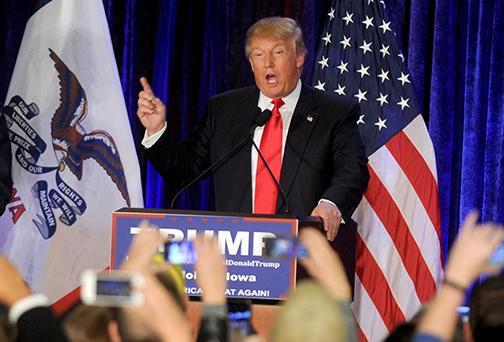 Advertisement
Hang on for a minute...we're trying to find some more stories you might like.
Immigration, terrorism, gun violence, and the national deficit are just some of the key issues that presidential candidates from both parties have been debating for months.
As voters across the country begin to cast their primary ballots, they must ask themselves, "Which candidate is most fit to lead our country?"
The 2016 election is arguably the most important one of this century because it will determine the country's future. This staff believes that the country needs to elect a politician who has experience holding high public office and not an amateur politician like outspoken real-estate mogul Donald Trump. This country does not have the time for a President to spend his first term in office learning the ropes of basic American politics, and needs a President who can come into office and deliver almost immediate solutions.
Trump is not the answer now and never will be. He has no foreign policy experience, no experience in public office, and his "solutions" to America's problems are un-Republican, un-American, and some of them are downright unconstitutional. For example, building a wall on the southern border of the United States is an asinine notion that will ruin U.S. relations with Mexico. Banning Muslims from immigrating to the U.S. clearly violates the First Amendment right to freedom of religion.
Not only is his policy out of touch with modern American principles, the words of his speeches are often insincere, as he tries to pander to every demographic of American voters. For example, in a speech at Liberty University in Jan. 2016, Trump said, "Two Corinthians, 3:17, that is the whole ballgame." Trump was attempting to refer to The Bible's second book of Corinthians and showed he was trying to appeal to everyone by failing to cite the verse properly.
This election will affect everyone in America, including people who do not vote. The leader this country chooses will determine what the country does about tax rates, healthcare, the national deficit, and foreign policy.
The American people are too fixated on Trump, and it was shown that he is clearly not the answer. He is an example of why this election is important-just the fact that he is the leading candidate in polls shows that Americans no longer trust their representatives to do what is in their best interest. It is time to bridge the trust between the American people and the federal government by electing a candidate with experience, like Florida Sen. Marco Rubio who can put the country back on track.
Although Rubio is young, he has gained invaluable experience in his short time in politics. He served as the Florida House of Representatives Majority Leader, the Speaker of The Florida House of Representatives, and is now nearing the end of his first term in the United States Senate. In the Senate, he has served on the Foreign Relations Committee, the Select Committee on Intelligence, and the Small Business and Entrepreneurship Committee. On these committees, he has learned skills he will be able to apply if he is the next President in the Oval Office.