Morning Announcements receives new LED set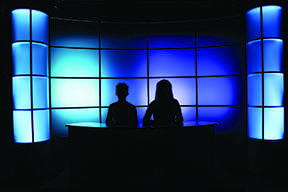 Bak MSOA Today updated the look of the morning announcements by adding a new set to improve the show and teach students how to work with a real, professional set.
"The students really wanted something different than the black curtain. They wanted to enhance their news program and modernize their show," Shannon Owens, communications teacher, said.
The crew ordered the set from Gelbach Designs, a professional set design company out of North Carolina. The set was custom built to match the anchor desk.
"I was there when we got the new set because I am Ms. Owens' student aid. The semi-truck arrived around 3:10 and I came by later on during an afterschool activity around 5:15 and it was almost done being set up. It took a couple hours to set the whole thing up," Brooke Ibarra, eighth grade communications major, said.
The students on the morning announcements had been waiting for over a year for the set to arrive. They fund-raised to buy it last year when they were in television production.
"I funded it through the care packages last year. That money was set aside, and I used it to buy [the set] over the summer," Owens said. "We modernized the new set and the control room with new computers and software. We wanted things that they can use in the real industry."
The new set also had many uses besides being a background for the anchors. It could be used for credits, opens, and packages. It was also completely moveable. It was pieced together with Velcro so the look could be changed.
"The LED lights reflect off the set. There are four different lights that randomly change colors," Megan Fenton, eighth grade communications major said.
Students on the announcements have experience with virtual sets by using the green screen, and now they have the chance to be able to work with a hard, professional set.
"Most schools have gone to virtual sets but the students picked this set. We researched it in our television production class and we narrowed it down to three options. This is the one they chose for the year. Now the students know how to work with hard sets and virtual sets, like what we use for feature reports with the green screen," Owens said.
The new set has given the eighth grade announcements students the opportunity to work with equipment that they can use in their future career. It also helps students personalize the show and make it their own.
   Ibarra said, "I think that it looks professional and I am glad that we got it before I leave Bak."