Puerto Rico trip enhances students' spanish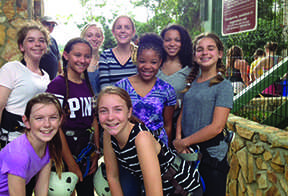 Spanish World Language class traveled to Puerto Rico during spring break from March 20 to March 25.
"It lets kids open up a desire to travel more, learn more and be more open-minded about people across the globe," Christina Donnelly, Spanish teacher said.
During the field trip, students had the chance to practice the Spanish they learned in class in real-life situations.
"In class, we learned basic words to talk to people. Spanish class helped me communicate with the residents there and know basic needs like how to order your lunch or ask the price of souvenirs," Taylor Haynes, seventh grade communications major said.
Nine girls went on the Puerto Rico trip and participated in activities such as "kayaking in the bioluminescent bay, hiking in a tropical rainforest, snorkeling off of Catamaran in the coral reef, cave-exploring, visiting the old St. Juan from the Spanish war, and, of course, shopping," Donnelly said.
"[I liked] the bioluminescent tours because we got to see the water glow at night," Haynes said.
Puerto Rico, also known as "The Island of Enchantment," is in the top 25 best places to visit in the world, according to travel.usnews.com.
"I was expecting to see an interesting culture and to learn about the islanders and I did," Haynes said.
The students were given a chance to try different things on the field trip. According to ehow.com, Puerto Rico had several Catholic faith shapes in its culture" and "has many foods with indigenous seasonings such as Cocina Criolla.
"The girls got to experience a different culture, a different schedule, different foods, and different sayings ­and expressions," Donnelly said.
Bak's annual Spanish trip let students "communicate," Haynes said, and "learn and practice Spanish."
Haynes said, "I wanted to enhance my Spanish. My mom is Spanish so I really want to learn the language she speaks."