Trump, Clinton win big in Florida, look to lock up nominations in April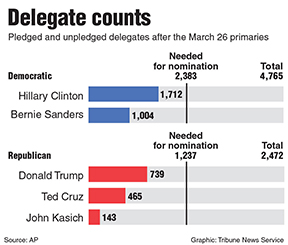 And then there were five. After more than one month in to the 2016 Presidential Primaries, the once twenty four candidate field has been narrowed down to businessman Donald Trump, Sen. Ted Cruz, and Gov. John Kasich on the Republican side, and Sec. Hillary Clinton and Sen. Bernie Sanders on the Democratic side.
On March 15, 2016, both Democratic and Republican primaries were held in in Florida. Clinton won by more than thirty points on the Democratic side. On the Republican side, Trump won with 45.7 percent of the vote. Sen. Marco Rubio, a Florida native, came in second with 27 percent of the vote. After his double digit defeat, Rubio suspended his campaign.
"And so while it is not God's plan that I be president in 2016 or maybe ever, and while today my campaign is suspended, the fact that I have even come this far is evidence of how special America truly is, and all the reason more why we must do all we can to ensure that this nation remains a special place," Rubio said in his concession speech.
Rubio's loss was unsettling to anti-Trump forces who hoped for Rubio to win the state's primary and deprive Trump of 99 delegates to the Republican National Convention. According to ABC News, nearly $2.5 million were spent against Trump in the United States on March 14, March 15, and March 16.
However, the anti-Trump forces were able to score a significant victory in Ohio where Kasich, the current governor of the state, won with 46.8 percent of the vote.
Even though Cruz won in Wisconsin on April 5, Trump still led in the delegate count with 743 delegates. Cruz was in second with 517 delegates, and Kasich was in a distant third with 143 delegates. In order to win the nomination on the first ballot at the Republican National Convention, a candidate must have secured at least 1,237 delegates. If no candidate has secured that number, a contested convention ensues, which means that all of the delegates are free to vote for any candidate. Trump has said that if he is denied the nomination unfairly, he will sue the Republican Party.
"I think that the Republican leadership, no matter how much they don't like Trump, needs to respect the decision of the voters," Lisa Hanser, social studies teacher said, "If it is supposed to be the party of the people, they need to respect the decision the people have made."
The next contest is scheduled for April 19 in New York where 95 delegates will be up for grabs for the Republicans, and 247 will be at stake for the Democrats.
Although not every state has voted yet, many are saying that this election is unprecedented.
"This has been unlike any election I've ever seen. Both Democrats and Republicans are angry with what's going on in Washington," Hanser said. "That anger is exactly what has allowed Trump and Sanders to thrive."