Theater showcase gives sixth graders a chance to perform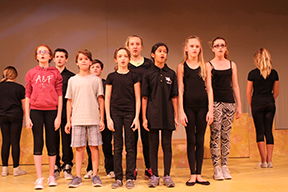 Students stood offstage, silently running through their monologues while adjusting their costumes. The lights dimmed, marking the beginning of the sixth grade theater showcase.
"In a good theater piece, actors must engage each other and the audience," Sandra Tepper, theater teacher, said. "They must create reality in theater."
The showcase took place on March 14, 2016. Students participated in a variety of performances.
"I was in the theater history program introduced by Ms. Tepper. We studied primitive, Greek, and medieval theater," Sunaina Singh, sixth grade theater major, said.
Students studied other, more modern aspects of theater as well.
"I performed an original reality TV show from Ms. Graham (sixth grade theater teacher)'s  class," Luca Riley, sixth grade theater major, said.
Most sixth graders performed in the showcase, and they worked on their pieces in their theater electives.
"I learned that theater didn't just rise up forty years ago," Singh said. "It ranged in popularity over the years."
Students are taught to learn from their mistakes in order to better their performance skills.
"[The students] perform their monologues in front of me and I critique their classwork," Tepper said.
Some believe the most important part of theater is creating versatile characters.
"In class, we made up characters," Riley said. "We played with them for a few weeks through improv games."
No matter what students performed, the showcase expanded their knowledge of theater.
"We prepared in class and memorized everything. We wrote all of our scripts and performed in front of our teachers," Singh said. "It was an amazing experience."