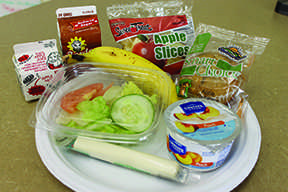 Some students like Nashani Gilbert-Taylor know that eating healthy keeps the human body strong.
"I like eating healthy because it makes me feel good and I like taking good care of my body," Gilbert-Taylor said.
"A lot of students don't always make the healthy decisions, but there are a lot to choose from," Robert Gold, cafeteria manager said.
Many students' lunch consists entirely of items from the snack line. The lunch menu consists of many healthy options that some students fail to consider.
"We have five combos, fruit, milk, vegetable, protein, and bread. At least three of those have to be eaten for it to be considered a meal," Gold said.
The school's lunch follows the district guidelines. The guidelines for a meal according to the Palm Beach County district website are as following:
Calories from total fat will not exceed 30 percent, saturated fat not to exceed 10 percent.
A various selection of fresh fruit and cupped fruit (containing only natural juices or light syrup).
Offer a selection of vegetables and salad options to include locally grown produce.
A variety of low fat and fat free milk choices.
Whole wheat and whole grain bread choices.
Offer 100 percent fruit juice which is fortified with calcium and vitamin D.
Gold said, "[A balanced meal is] incredibly important. It's important to have a nutritious menu and that's why we offer free breakfast."