Math Counts provides environment for students to practice math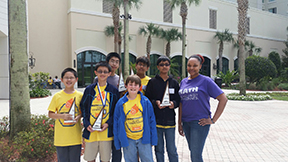 Some turn to videogames, social media, or Netflix for rest and relaxation, but others find leisure in math.
Math Counts, a national organization for team and individual math competitions, is for the "academically inclined and those who love math," Melanie Ayuso-DeAngelis, Geometry and Algebra 1 teacher said.
"When I go to a competition, not only do I feel like I am with people with the same mindset as I do, but I know I will be challenged as well," Christopher Cox, seventh grade theater major said.
Math counts does not only provide a place to practice math in a competition-style, but also includes the importance of teamwork.
"It teaches us that to answer the questions the fastest and most accurate, we have to work with each other to get the answer," Anthony Li, eighth grade piano major said.
Math Counts also instills the "love for math in everyone who participates," Ayuso-DeAngelis said.
"Math, to me, is like a treasure hunt," Li said. "I get to sit down and find all the formulas to get to the answer."
Functioning through four different rounds, and two different competition styles, Math Counts provides the environment for students to practice math.
The Math Counts team won 10th place at the State competition out of 69 teams on March 31. Li placed 14th out of 221 mathletes.
"Participants [of Math Counts] are called mathletes, and they compete in Sprints, Targets, Team, and countdown rounds," Ayuso-DeAngelis said.
"Four of the 10 students who participate are part of the official school team, while the other six are competing individually."
Instead of spending time watching TV, going out to movies, or playing games, Bak mathletes use formulas, calculators, and compasses to solve the problems they meet.