Goodbye toy helicopters, hello…drones: New futuristic drone races steadily increase popularity throughout world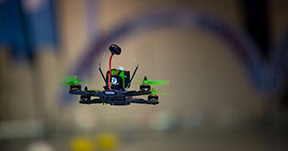 Virtual reality headsets secured on tightly, controllers in hand, and drones whizzing by every second. The sport of drone racing utilizes all of these high technology elements to provide gamers with a blast from the future, rather than the past.
According to myfirstdrone.com, drone racing is a sport where drone pilots strive to build fast and agile multi-rotors to fly around a set course as fast as possible. Drone racing is most commonly done using First Person View (FPV) systems. These systems allow drone pilots to fly their drones through three-dimensional courses at high speeds. FPV systems utilize virtual reality googles, which display a real-time video feed from an onboard camera.
The official Drone Racing League, otherwise known as the DRL, hosts drone races at locations around the world where top pilots fly high-speed drones in an arena. A DRL race is scored based on a combination of completion time and checkpoints drone pilots must successfully maneuver their aircraft through. In a typical drone racing season, there are six races around the world where pilots earn points. The pilots with the most points qualify for the World Championship race.
For more information on this futuristic pastime, visit fpvracing.tv.