Eighth grade dance allows students to celebrate their middle school successes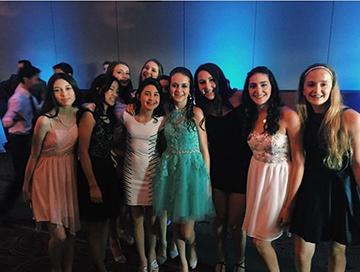 Strobe lights dotted the dance floor as students, clad in colorful dresses and pristine suits, flooded to the center of the room. When the first pop song started to play, students kicked off their shoes and dragged their friends to the center of the dance floor.
"The night felt magical. The dance was an incredible event that you rarely get to experience," Brooke Ibarra, eighth grade communications major said.
The annual eighth grade dance was held on Saturday, May 14, at the Kravis Center. The event's theme was "Winter Wonderland", and it featured a DJ and a dinner buffet.
"I wouldn't change a thing about the dance," Tiffany Lumley, eighth grade visual major said. "The DJ was incredible, everyone was having fun, and the food was awesome."
The dance gave the eighth graders a chance to "let loose and just dance."
"[The purpose of the dance was] to give eighth graders fun breaks before high school and to celebrate their graduation from Bak," Sophia Salvador, eighth grade theater major said.
Students wore semi-formal dresses and suits.
Lumley said, "My dress was white with a sweetheart neckline, and it had a little bit of sparkles but not too much. It fit my personality."
The dance concluded with a thanks to all the PTO members who helped coordinate the event. Students left the dance feeling "satisfied and content."
Ibarra said, "The dance was beautifully set up, but what made it special was the memories I shared with my friends."