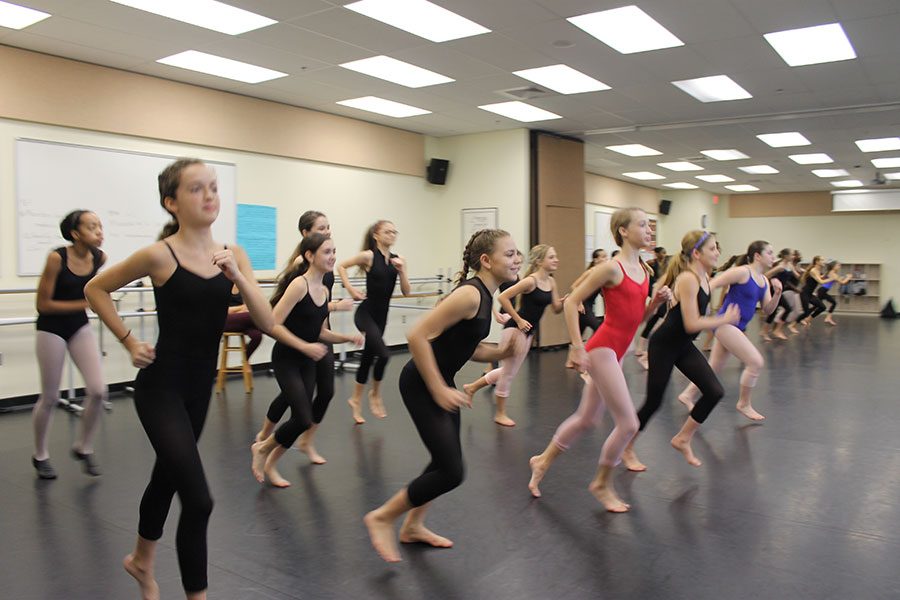 The dancer leaped through the air, stunning the audience. His many hours of hard work the weeks before had finally paid off, and he walked off the stage with a smile.
"This year makes 11 years that I've been dancing," Alex Thomas, eighth grade dance major, said. "I've progressed from not being able to do a +simple step to doing crazy stuff, like flipping."
In addition to dance classes at Bak, the majority of dance majors partake in studio classes after school as well.
Dancing in two different environments affects dancers in different ways, and every dancer has a unique way they learn dance moves and choreography.
"I learn from teachers and other kids my age who also dance. They inspire me," Taylor Schmitt, sixth grade dance major, said.
Many dancers at school began lessons at a young age, and most had a reason why they became interested in dance in the first place.
"I have a friend, and he's a professional dancer," Cortez said. "One day, I want to be as good and professional as him."
"I drove by my studio one day and I thought 'I want to dance here'," Thomas said.
No matter why they began to dance, dancers all had their own reasons why they continued to work at their art.
"I love how I can go to dance and not have to worry about anything else," Schmitt said. "I just focus on what I'm there for."
Dance teachers showcased many styles of dance that allowed dancers to be creative, and even incorporate some of their own moves.
"There's no limit when it comes to dancing," Thomas said. "You're always doing different things. Teachers give you another way to see dance."