Hurricane Matthew spares South Florida, wreaks havoc on north Florida, coastal states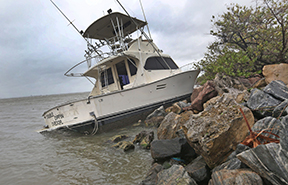 Whirling past the Caribbean and wrecking Haiti, Hurricane Matthew made South Florida its next target, with over 1.5 million people evacuated. However, the expectations of the storm's impact in Palm Beach County were "not a big effect."
"They thought [the storm] was going to be worse, with more fatalities," Emma Troast, eighth grade theater major, said.
According to the Sun Sentinel, The hurricane season does not officially end until Nov. 30, and the public should not let their guard down. This storm could be the first of many, no matter the damage it did this time.
"The storm did not really have a big impact on us," Logan Hansen, seventh grade visual major, said.
Students in certain areas had to evacuate for safety reasons, and some faced challenges.
"When I evacuated, we went across the state to where my grandmother lived," Lucy Oxer, eighth grade theater major, said. "There was way too much traffic. I felt sad, but also happy that when we evacuated, nothing happened."
Along with evacuees, there were the ones who stayed behind. The remaining citizens had to prepare for the oncoming storm. According to the Red Cross, hurricane preparation includes bringing in anything that can be blown away, stocking up on disaster supplies, buy non-perishable food, get gasoline, and shield windows with shutters or plywood.
"We had candles and flashlights ready in case the power went out," Troast said. "We also had extra gasoline."
The hurricane did affect certain areas of Palm Beach County- knocking down trees and cutting power, yet there were only a few fatalities within the state.
"It knocked down a lot of trees and leaves in my neighborhood, and a couple of stop signs had fallen," Troast said.
In the end, much of South Florida narrowly missed Hurricane Matthew's wrath. However northern Florida such as Daytona, St. Augustine and Jacksonville suffered flooding and structure damage to buildings and road.  Matthew continued its trek onto Georgia, South Carolina, and North Caroline, and despite downgrading to a category 1, it still left behind destruction.
Hansen said, "The storm did not hit us, but as Gov. Rick Scott said, 'Let us prepare for the worst and hope for the best.' "